Hi everyone! I'm back with another awesome Star Wars post – well, I dunno if it's awesome, but I certainly feel awesome looking at this amazing art by Russell Walks 😍🥰😘.
Here's the artist's Twitter post about this amazing poster that he made for the SDCC!
Hey! Here's the new Luke and Grogu piece I created for my pals @intltrends called "Size Matters Not". Man, you guys, I feel so lucky to be able to play in such a wonderful galactic sandbox. #starwars #TheMandalorian #grogu #LukeSkywalker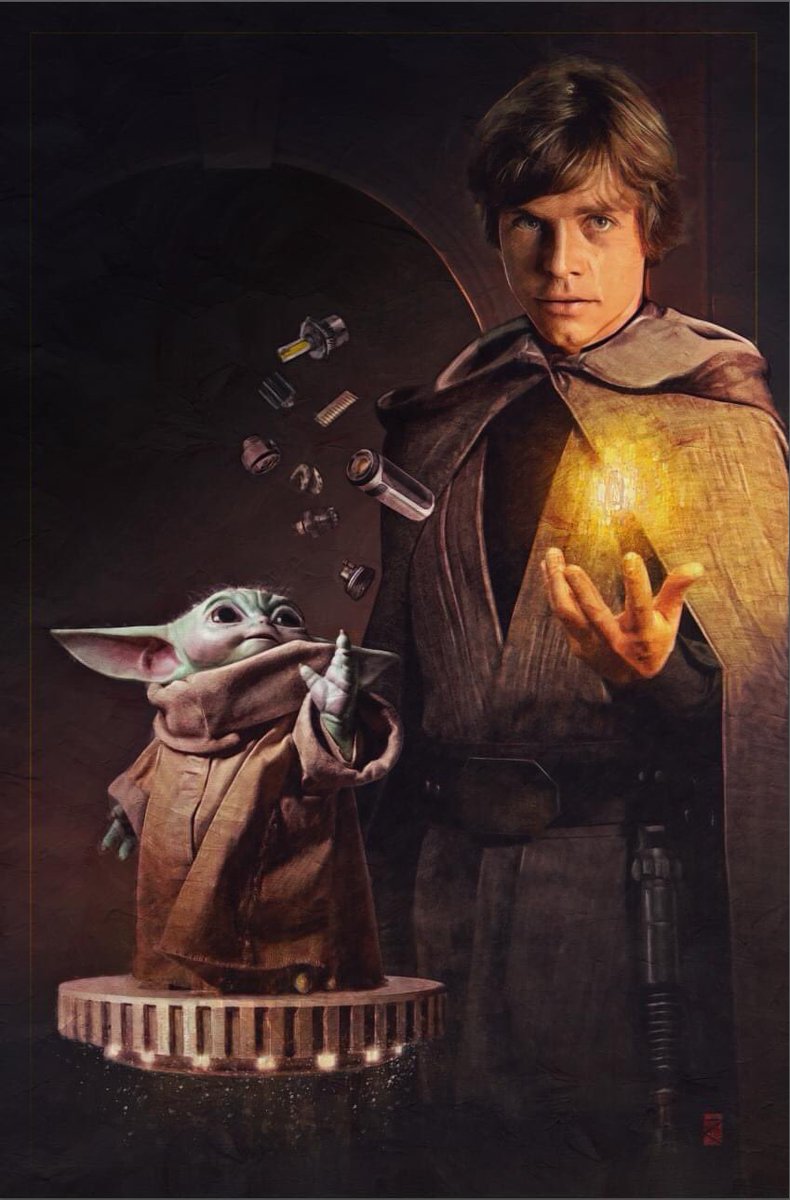 Originally tweeted by Russell Walks (@Russellwalks) on July 24, 2021.
FIRST OF ALL, how amazing is this art? Am I right? I mean, look at it!! Secondly, how amazing is this art lol 😅😆
It was on sale apparently via a website called Trends International, which is right here. But when I checked, it was gone – or at least I couldn't find it on the first few pages I looked through. I even did a search for the artist and came up with nothing. So my guess is that it was in so much demand, they had to sell whatever they had and take it off the site for fear of breaking the website 😅😆
I remember seeing the art from this artist a while ago, and I forgot how beautiful it is. So I've decided that to celebrate payday tomorrow, I will buy one of Russell Walks' artworks, and I've chosen this one (since the one above looks to be all sold out).
Isn't this also so beautiful? I am absolutely in love with this one!
THERE is so much to love about this poster. The colours are so lovely, and in sync with each other, the image looks exactly like the photo still from the film, A New Hope is my favourite Star Wars movie and Luke my favourite Star Wars character 😍🥰😘 It's just gorgeous, but I want to stop gushing about Luke now 😅😆
Have you ever bought any art from your favourite artist or any movie posters for your favourite films? I am anticipating some of you definitely have! I have bought a few in my time of favourite Star Wars characters and movies I like (as I am a HUGE movie buff!), but this one seems kind of special since there are only 1977 (the year A New Hope released, by the way!) copies of it!
Let me know in the comments, people – what is your favourite poster or art for Star Wars? Send me some pics or links so I can check them out! Looking forward to it 😊😉
If you like my Star Wars posts, you can check out more of them right here.
Thanks for your support!